Remote IS-BAO Stage III Audit for ABS Jets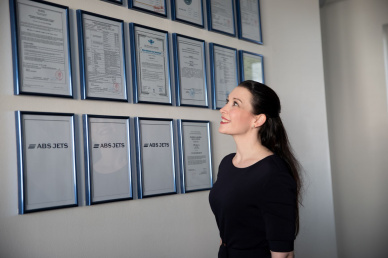 ABS Jets has successfully renewed IS-BAO Stage III certification with the International Business Aviation Council (IBAC). The audit resulted in zero findings, demonstrating that ABS Jets is dedicated to following international safety standards.
When the COVID-19 crisis struck, the audit's planning stage had already commenced. It was then elected to perform the audit remotely, which required rigorous preparation by both auditors and ABS Jets personnel. ABS Jets prepared the documentation references well before the audit, allowing auditors to form a picture of the company and to study the relevant parts of manuals.
The remote audit not only reviewed ABS Jets' records but toured the company via mobile phone, met staff electronically, interviewed staff face to face via laptop, inspected warehouses, tools and GSE, and inspected aircraft and their equipment. ABS Jets Quality, Safety and Security Manager Martin Orlita commented on the audit's challenges: "The remote audit proved challenging because of electronic communications and new methods of exchanging information and evidence. We encountered a few minor electronic communications problems, but those were successfully overcome. Sharing screens also proved an effective method of reviewing evidence."
ABS Jets Accountable Manager Jan Králík added: "We are proud of achieving excellent results after thoroughly preparing for this new way of conducting audits. Renewal of IS-BAO Stage III indicates that ABS Jets is on track in following its development objectives. For ABS Jets, it represents an overall success."