Aircraft Maintenance
Perfection requires perfect care. That is why aircraft maintenance is one of the most significant cornerstones of the ABS Jets comprehensive portfolio of services. Our certified maintenance centre carries out light and heavy maintenance in our own spacious hangars with the help of state-of-the-art equipment and an international team of 50 highly qualified technicians.
We proudly bear the authorised service centre for the Brazilian aircraft manufacturer Embraer, for whom we officially provide global AOG support. We hold all the necessary authorisations of the EASA Part 145 organisation, as well as other countries such as Russia, Aruba, Isle of Man, Turkey. We are also an authorised supplier for Honeywell Aerospace.
We take pride in our first-class quality of work and ability to immediately address our clients' needs. During your stopover at the airport in Prague we can offer you the services of our paint shop, machine shops, and a shop for battery, aircraft wheel, and composite part repairs. We also carry out general, scheduled maintenance up to the C-Check inspection level. After all the service work has been completed, only one thing is important to us: that the aircraft is in perfect condition and ready for its owner, whose satisfaction is our absolute priority.
---
Providing a comprehensive range of services
Installation of avionics upgrade
Executive aircraft cleaning
Services connected to short and long-term aircraft parking
Aircraft interior refurbishment
Overhaul and parts repairs
Engine and APU replacement and repairs
Assistance in aircraft delivery and pre-purchase inspection
Aircraft types approval
Line
Maintenance
Embraer Legacy 600/650
Embraer Phenom 100
Embraer Phenom 300
Gulfstream G550
Gulfstream G650
Base
Maintenance
Embraer Legacy 600/650
Embraer Phenom 100
Embraer Phenom 300
Gulfstream G550
Gulfstream G650
A short movie showing general aircraft inspection at ABS Jets
Our service centres
Our headquarters at Prague Airport is able to offer an extensive line of services, including:
Paint shop
Aircraft wheel and battery repair shop
Workshop for the repair of composite parts
Machine shop
The base at the airport in Bratislava provides support to the nearby Vienna Airport and focuses mainly on line maintenance. Our certified technicians especially provide technical support to Embraer Legacy 600/650 and Embraer Phenom 100/300 aircraft.
Services include:
Aircraft inspection before departure and after arrival
Refilling operating fluids
Replacement of components
Removal of faults reported by the crew
AOG support 24/7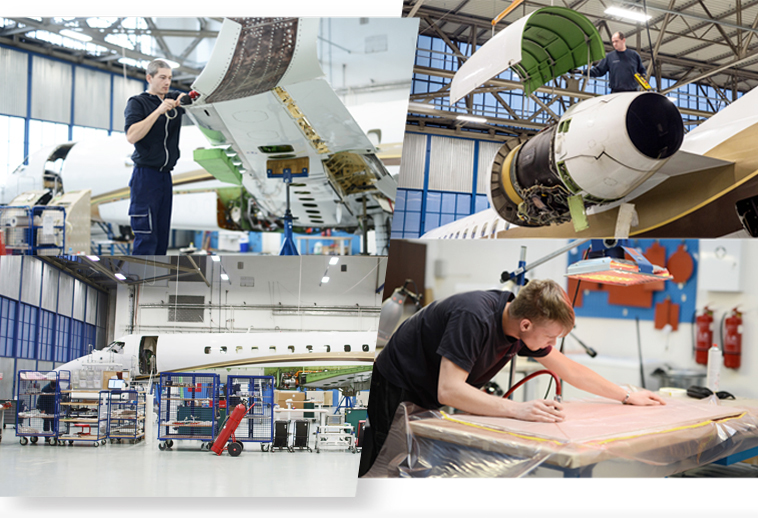 ---
In 2014, we were awarded as the organization with the best AOG support for Embraer aircraft
Are you looking for aircraft maintenance?
You might wish to look through other services from our portfolio