Jet Charter and Brokerage
Imagine absolute freedom of travel. At ABS Jets, we will arrange a private jet that will take you anywhere you wish in a fraction of the time. The world's most comfortable and luxurious aircraft belong to our fleet. Within an environment of privacy, we offer first-class on-board services, the finest catering to match your tastes, and an aircraft crew ready to meet your every request.
Our charter and brokerage department will arrange private flights anywhere in the world for you. Do you need to take off for a meeting in Geneva in a couple of hours or do you want to get to a beach in the Caribbean in 10 hours without stopping over? Our team of consultants is always available to you and can make your wish come true in no time at all.
Our consultant will recommend a suitable type of aircraft that will be the optimal choice for your journey. We are capable of offering you a small and cost-efficient Cessna Citation CJ2, or we can provide you with an incredible flying experience in one of the fastest and most comfortable business jets in the world – the Gulfstream G650.
Not only will we plan your actual flight, but we can also transport you to your final destination by limousine or helicopter and arrange a booking at a luxury hotel. Thanks to our own flight planning operations centre, we monitor the entire course of your flight, which allows us to contact you or authorised persons about the flight's status and also lets us quickly respond to any possible changes in the flight schedule.
Quality & Safety
is our commitment ≫
Your safety is our priority
We are here for you – 24 hours a day, 7 days a week
We advise you about selecting the right aircraft
We provide comprehensive organisation of your entire journey
---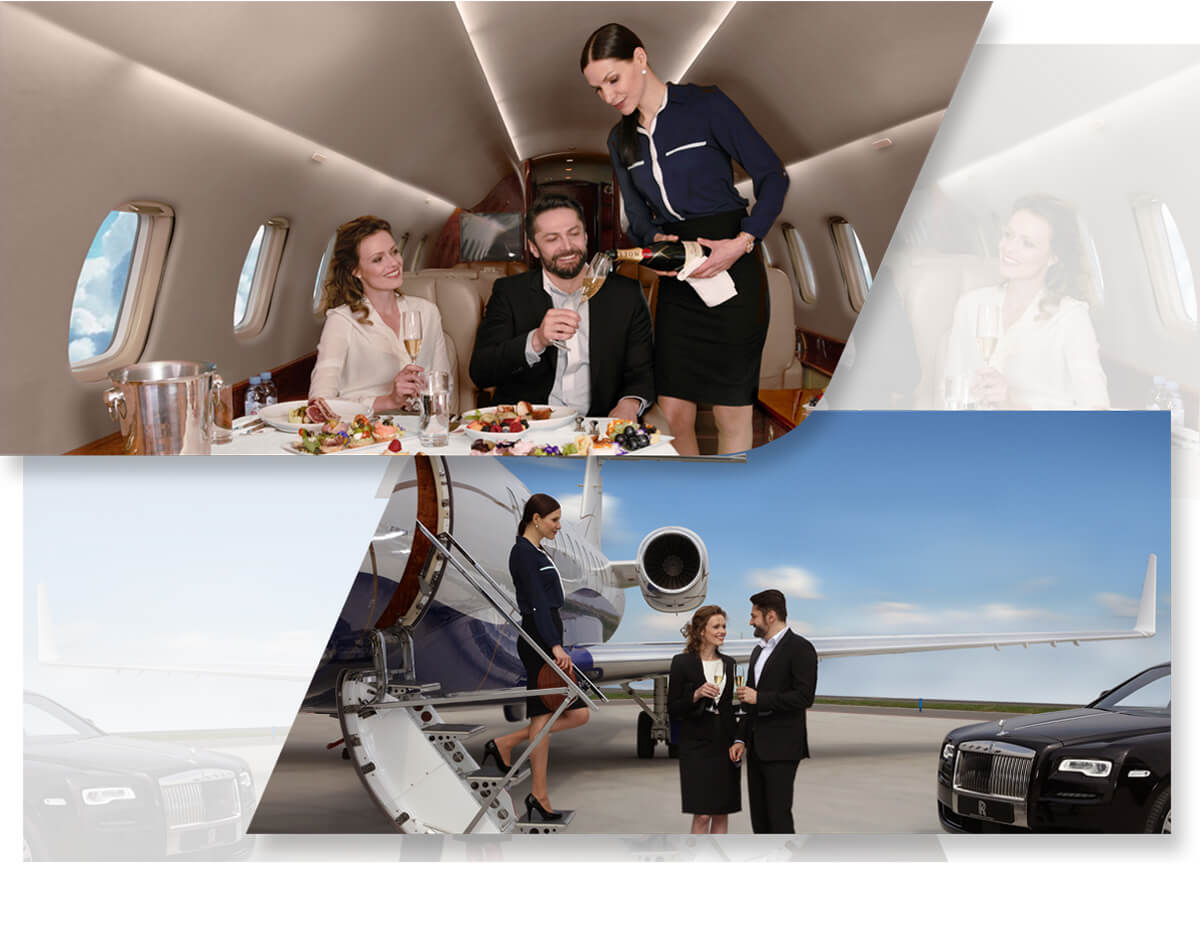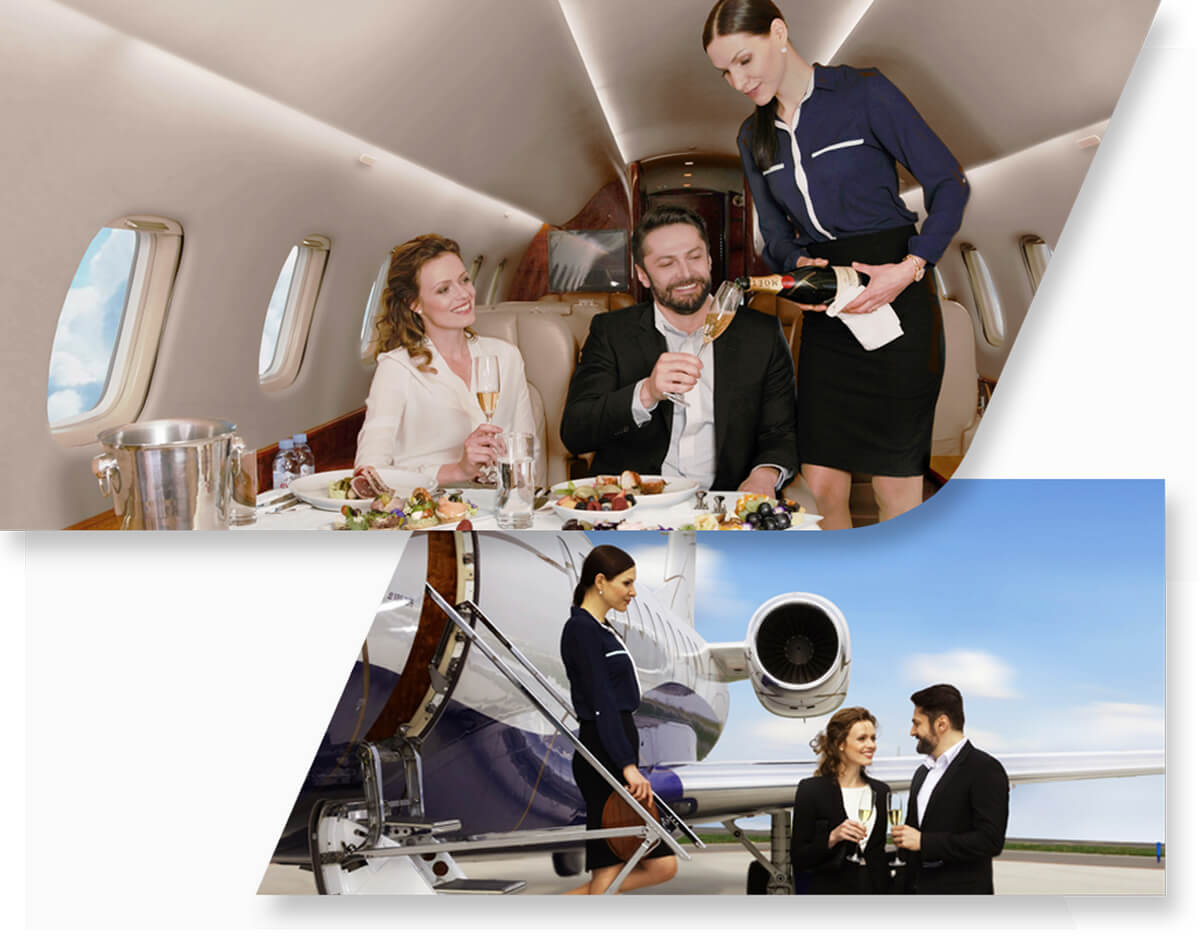 Offering everything for your perfect flight experience
Naturally, there is no unnecessary waiting during passenger check-in at VIP terminals.
Priority check-in at VIP terminals
Thanks to our own operations centre, we are able to plan your flight effectively, dependably, and safely.
Flight coordination
We are not just an air taxi – we will comprehensively handle your journey, from booking a hotel to renting a limousine.
Comprehensive travel management
Masters of cuisine will prepare luxury meals from first-class ingredients for you.
Exclusive catering according to your needs
We will take you quickly and comfortably to and from the aircraft, and handle all your luggage with great care.
Passenger and luggage transport to and from the aircraft
---
Brokerage
We are always ready to cater to your needs. In the case that our fleet does not have the capacity or if you require an aircraft of a different category, we will instantly find an ideal solution for you through our international network of partners. We cooperate only with selected business jet operators who meet strict safety regulations, own a commercial airline licence, and guarantee the highest airworthiness standards.
Cooperation with verified operators worldwide

Strict criteria for selecting an operator

Private jets with a capacity ranging from 4 to 50 passengers

Medical flights
Choose the best business jet to suit your needs
All the aircraft we offer belong to a group of jets providing the highest possible level of comfort and safety. Aircraft types with capacities of 4–8 passengers is the most frequently used category. However, we will be glad to arrange for you a private jet rental for up to 60 passengers, for example, a large airliner such as an Airbus or Boeing.
How much will I pay for travelling in a private jet?
The price for flying in a private jet depends on several factors, including the flight duration, the aircraft's hourly rate, positioning routes (whether the aircraft has an empty leg before or after your flight). The price also includes navigation, airport, ground handling, and catering fees.
Factors influencing the price of a private flight
Are you about to book a private jet? You might wish to look through other services from our portfolio