Ground Handling
Fast and dependable check-in as well as a very personal approach are both a matter of course in private flying. Our private jet ground handling service department honours these values and arranges for everything that you can expect from a professional service in this regard.
Aircraft ground handling is carried out in accordance with strict safety regulations on the basis of a licence granted by the Civil Aviation Authority. We belong to the very small, yet global, circle of providers with the prestigious IS-BAH accreditation (an international audit of aviation ground handlers based on globally recognised standards).
Our bases at Prague and Bratislava international airports provide facilities of high quality and state-of-the-art technical equipment necessary for the seamless handling of current types of civil aircraft and helicopters. Our team of professionals ensures the comprehensive care dedicated to your jet before departing and after landing. In cooperation with the travel management department, we provide related services for both the crew and passengers. To add that extra touch of comfort to every arrival and departure, our exclusive concierge service at Terminal 3 in Prague is available to our clients.
Quality & Safety
is our commitment ≫
Availability 24/7
Requests immediately addressed
Individual security check
Check-in within 15 minutes
ABS Jets facilities directly at Prague and Bratislava airports
---
Ground Handling services include
Flight coordination with the airport operator
Securing airport slots
Transport to and from the aircraft
Refuelling
Arranging catering
De-icing the aircraft
Cleaning the exterior and interior of the aircraft
Securing the GPU
Possibility of renting a VIP vehicle with chauffeur
Arranging the crew's accommodation
Parking your car in a private car park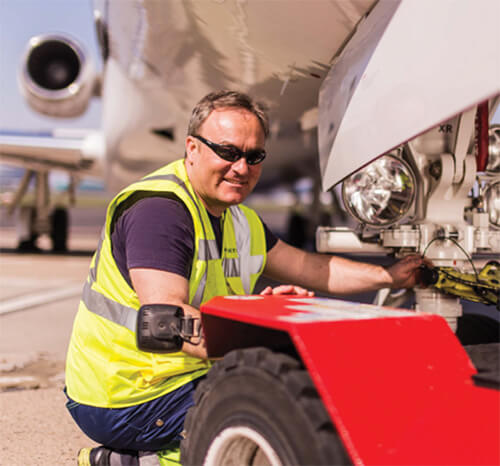 ---
Juliana Nevrova

Outstation Technical Support Supervisor and Procedures Administrator,

Air Baltic Corporation

Thank you for the assistance that you have provided to us during this complicated situation with our Q400 aircraft in Prague. We appreciate your help very much!

Andre Fodor

VP, Aviation & Global Opportunities,

Johnsonville Sausage

With business operations in more than 40 countries, we need an international handler with extensive experience and connections. ABS has highly trained staff that have handled us, worldwide, over the past five years with excellence. Their experience and professionalism translates to cost-effective operations and flawless trip success. I highly recommend ABS as a seasoned and experienced handler that takes pride in high quality services and great customer service.

Wynand Meyer

Quality Service Manager, VIP Operations

UAS International Trip Support

I had the pleasure to work with ABS JETS Handling on a recent VIP flight in April 2016. ABS JETs was attentive to all my requests and very professional, all services requested were available and ready before our aircraft arrived. Our flight was turned around within 30 minutes, well ahead of schedule. (However, due to weather conditions at our next destination we had to wait, but if there was no weather issues our flight would have departed ahead of schedule.) Martin Pochman is very professional and many thanks to him for making this flight such a success.
Hangarage
Hangarage is offered in modern, heated hangars that are at your disposal in Prague and Bratislava. We own two hangars at the Prague Airport with an area totalling more than 6 000 m2. The hangar in Bratislava has an area of 2 300 m2. Both hangars at the airport in Prague are located in the "Jih" ("South") zone and can fit aircraft as large as a B737 or A320. Aircraft are towed to the hangars by our own, fully-trained staff and on the basis of valid permits and licences.
VIP Lounge
As part of our ground handling services, we offer the possibility of using the facilities of our VIP lounge. A bar with coffee and other beverages is available to you at the premises. You are also welcome to use the TV, computer with printer, and free Wi-Fi connection.
We provide Ground Handling services at the following airports
Complete handling services
---
Complete handling services
---
We are able to arrange ground handling services for you at all other Czech and Slovak airports where we do not have an official presence.
LKTB – BRNO
LZIB – Bratislava
LKKV – Karlovy Vary
LZKZ – Košice
LKMT – Ostrava
LZTT – Tatry
LKPD – Pardubice
LZSL – Sliač
LKVO – Vodochody
LZZI – Žilina
LKKU – Kunovice
LZPP – Piešťany
---
Our Ground Handling services are internationally certified
Explore other services from our portfolio