ABS Jets flight dispatchers have been awarded the world's most prestigious FAA certification
Petr Wessnitzer 3. 10. 2022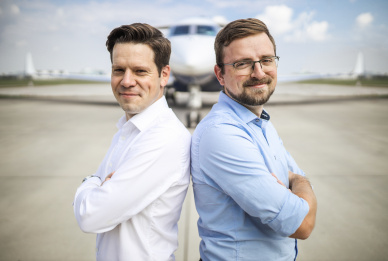 The Flight Dispatching and Flight Planning Department (OCC) is celebrating; two dispatchers Jan Marx and Vojtech Vaclavik have passed their final FAA certification examination, bringing even greater expertise to the OCC department. Jan Marx, Deputy Flight Planning Manager at ABS Jets, answered a few questions.
You've just been certified by the FAA. What does that mean to you? 
I'm delighted, of course. The exam as a whole was far more difficult and challenging than I had initially expected or could have imagined. However, I value this licence all the more, having achieved it after almost six months of studying.
How is the FAA flight dispatcher certificate valued by the professional community?
On the basis of numerous conversations on site in Cincinnati, and other factors, I can go as far as to say that the FAA licence is the most widely recognised licence among the general professional community worldwide.
How long did the training take and what was the most difficult part about it?
I started in February, when I was given access to distance learning - online lectures, exercises, lots of continuous tests. After arriving in Cincinnati in the USA, I had to take two highly complex computer entrance tests, each lasting almost 3 hours and containing test questions as well as specific examples, and all I could use was an ordinary calculator, pencil, and paper. This was followed by a week-long course that started on Saturday and ended on Friday. Every day from 08:00 in the morning until 6:00 in the afternoon. On top of that, we were also usually given homework to do at the hotel. The final test and oral exam followed on Friday. On Saturday 18 June there was the final test with the FAA examiner, which lasted 6 hours straight. It was really hard to keep up the concentration. Among other things, the task was to manually calculate a flight plan that took account of numerous conditions, including a comprehensive weather forecast. 
What would you say is the biggest benefit of gaining such a prized licence?
We believe this will give us a competitive advantage for our flight planning service and the flight support we offer. For me personally, this means that I now see flight plan calculations a little differently, from a broader perspective. Now more than ever I can see the difference when the software can calculate something in just a few seconds, while it took me 6 hours "by hand"...
Are you planning to continue training dispatchers in the OCC department?
I sincerely hope that our success will also inspire other colleagues in our department. We'll certainly be trying to make sure that other colleagues at the OCC department can also get this opportunity. After all, tests and audits are really part of the daily routine for both our department and the other sections at ABS Jets.
ABS Jets offers a comprehensive range of aviation services, from arranging flights anywhere in the world for individuals and groups, through flight planning and handling, to aircraft maintenance at its own maintenance centres in Prague and Bratislava.