We expands our fleet with three new aircraft. They are ready for a private flight within two hours of a request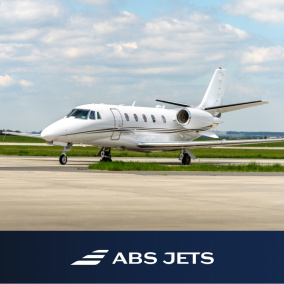 The private aviation company ABS Jets is adding three new aircraft to its fleet. Clients can order each of them for their private flight.
ABS Jets is delighted to announce three new additions to the fleet. These are private planes, specifically a Bombardier Challenger 605, Cessna Citation XLS+ and Gulfstream G200, are from the mid size and heavy jet categories.


"We are very pleased with the current growth, thanks to which we are once again expanding the range of services for our clients. The new Cessna Citation XLS+, Gulfstream G200 and Bombardier Challenger 605 aircraft are technologically advanced aircraft from the world's leading manufacturers, which suitably complement our fleet exactly where our clients expect it. That is, especially in the mid-size and super mid-size category, which is ideal for offering private flights on the charter market," says Jan Kralik, CEO of ABS Jets.
And what are the parameters of these aircraft?  
BOMBARDIER CHALLENGER 605
With a range of 7,400 kilometres and the widest cabin in its category, it is a popular and frequent choice for both longer transoceanic flights and shorter trips.
Challenger aircraft have flown more than 4.5 million flight hours, and they have proven to have consistent operational reliability and safety and are a respected choice among clients.
The spacious cabin, the widest in its class, with club, sofa and conference seating provides a comfortable space for rest and work during the flight. The cabin can be adapted to sleep up to 5 people.
The professional kitchen enables the preparation of hot and cold meals during the flight.
12 passenger | 827 km/h | 7,400 km
CESSNA CITATION XLS+
This aircraft offers great performance in a popular mid-size jet with a range of 3,900 km and lower operating and maintenance costs in this category of aircraft.
A spacious cabin (wide adjustable seats, cabin standing height and large luggage compartment) combined with low operating costs, comparable to light jets, are one of the many reasons for choosing this aircraft.
Its ability to take off and land at smaller airports or short runways is a major advantage.
9 passengers | 816 km/h | 3,900 km
GULFSTREAM G200
The longest range at the highest speed with a comfortable cabin. The G200 is among the fastest jet aircraft in the Super Mid-Size category in the world!
A generous and spacious cabin, warm catering with in-flight service, the ability to land at less-accessible airports and lower operating costs are the reasons for choosing this aircraft.
10 passengers | 850 km/h | 6,300 km
Aircraft entering the charter market!
These new aircraft are also entering the charter market - clients can order them for their private flight needs. Simply place your request using the online form at https://www.absjets.com/services-54/jet-charter-100
Clients receive a response within one hour 24/7 and you can fly on the selected aircraft or on-board a different, more efficient aircraft for the same flight within two hours.
"It must be added that the demand already exceeds the time capacity of the aircraft. Our sales team works 24/7 to meet the needs of all our clients," adds Jan Kralik.
ABS Jet is successfully expanding its fleet and service portfolio
The addition of three new aircraft is a great success, behind which the work of the entire ABS Jet team stands, and which logically follows on from the successful expansion of existing services:
Private flights - securing a flight within two hours of the request.
Aircraft management and aircraft maintenance - professional service for the entire fleet.
Aircraft handling – speed, comfort and a highly personal approach during check-in.
Flight planning – comprehensive flight support for more than 300 types of aircraft of various categories.
CAMO (Continuing Airworthiness Management Organisation)
Travel management – finding the ideal solution for a business or leisure trip.
ABS Jet offers an entire ecosystem in private aviation. All essential services can be found here in one place in the centre of Europe, which is an essential and much appreciated advantage by clients.