The most important moments of ABS Jets in 2021
Petr Wessnitzer 25. 2. 2022
News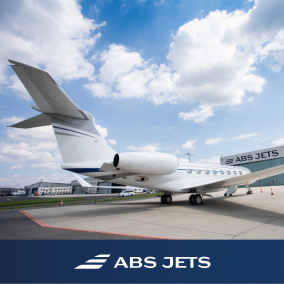 How many aircraft did we handle, what technical challenges did they give us and which destinations scored the most in private flying? Sit back and look behind the scenes at one of the largest private airlines in Europe


Handling
Speed, reliability and precision adorn us. In 2021, a historical record was set in the number of aircraft handled at Václav Havel Airport in Prague in one month. In total, we managed to handle 319 flights in September, which is ten and a half planes per day. The handling department provided professional services, which include all care for handling the aircraft and passengers. The numbers clearly represent our efficiency and productivity.
Although we typically handle rather light and elegant private jets, last year we also provided handling services for a huge Airbus A330. It was the largest aircraft we worked with that year. This the fourth largest aircraft produced by the well-known manufacturer with a total maximum take-off weight of 233 tons flew to Prague for maintenance
Dispatching (OCC)
We pride ourselves on our flight and flight planning (OCC) team. Thanks to his expertise and ability in 2021, he successfully planned almost 6,000 flights with 148 different aircraft. We communicate well all over the world, and the passengers of these flights went to a total of 584 different destinations.
The most popular destinations included Mykonos, Geneva, Nice, Paris, Zurich, Dubai and Varna. However, there were also less traditional locations, for example when we helped plan the expedition of the pilot Jiří Průša, who landed with his ultralight at several airports in Greenland.
Maintenance (MRO)
Our expert light maintenance technicians are often sent to different parts of the world to perform light and more involved work on our clients' private planes. Despite the pandemic complications of last year, our professionals took a total of two dozen flights abroad. One of the most remote work assignments took place in Thailand at U-Tapao International Airport.
We always make sure that all aircraft are in perfect condition before each flight. Last year, our technicians spent a total of 43,692 hours caring for them, whether it was light or heavy aircraft maintenance. During this time, they replaced over 2,300 parts (not included small consumables such as screws, etc.). One of the most complex projects last year was the repair of the fuel tanks on a Gulfstream G650 private jet.
Flight sales
A significant increase in 2021 was also recorded by the Charter and Brokerage department, which provides private flight sales and aircraft rentals. For its success, the department received an award for the greatest improvement, which clearly reflects the increased demand and interest in private flights, even among new clients who have previously flown with airlines. Recently, they have chosen the greater privacy, safety and comfort of private flights, where they can determine from where, to where, when and with whom they will fly.
We look forward to the success of 2022.
Good flight.