ABS Jets welcomes a new electric vehicle to its fleet
Petr Wessnitzer 24. 4. 2022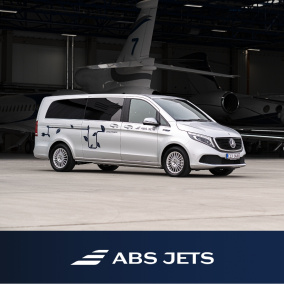 A new Mercedes-Benz EQV electric car has been added to ABS Jets' ground handling equipment. It is a sustainable, simple and efficient way to transport clients and more. The company has been working on the issue of greener travel for a long time and has already taken steps to lessen its environmental footprint. 
ABS Jets ground handling equipment is now enhanced with a Mercedes-Benz EQV electric vehicle. The elegant and efficient vehicle will strengthen the ground handling and transport of clients to their aircraft at Terminal 3 in Prague. The electric vehicle safely and comfortably transports up to eight people with a range of up to 356 km.
ABS Jets has long been concerned with sustainability. We take care to minimise the negative environmental impact. Our new electric vehicle is just the next step. At ABS Jets, we have been using energy-saving LED lights in hangars for a long time, sustainability is a key aspect we consider when we choose all components, and the presence of waste sorting containers is a matter of course at our Prague and Bratislava bases. Another novelty is the hybrid GPU power unit.
The aviation industry, like other modes of transport, is considered a threat to the environment. However, there are ways to minimise our carbon footprints and ensure the overall sustainability of operations and life on earth. SAF (Sustainable Aviation Fuel) is one example. ABS Jets is intensely focused on this opportunity and many more.
At ABS Jets, we are aware of our responsibility to maintain 100% quality in the care of our clients and their aircraft, as well as to maintain the maximum level of safety in our operations. However, we also perceive responsibility in terms of improving the environment. Welcoming the new electric handling vehicle is one of many steps in our long-term strategy. Better conditions for eco-travel are within reach and ABS Jets is and will continue to be innovative in implementing green solutions.