ABS Jets supported Children's Aviation Summer Camp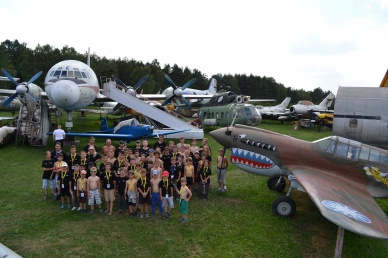 YOUNG CZECH AVIATORS ENJOYED AN AMAZING CAMP WITH HISTORICAL PLANES
Children from the Kamarád Třemošná Youth Centre in the Czech Republic have enjoyed an extraordinary experience. They have spent one week at a camp at the AeroClub Plasy airport, where they had a great opportunity to try out the lives of military pilots during World War II. They also flew on unique historical planes. A leading Czech business jet operator, ABS Jets, has been the proud partner of the event.
Sixty children could taste of the daily routine of war pilots from the famous Czechoslovak squadrons 310, 311, 312 and 313, which participated in air combats during World War II.
Children followed a similar daily routine as the historic heroes, including morning exercises and theory lessons on airplanes and aviation technology. With experienced instructors, they also tried out a real flight on Zlín Z-226 and Cessna C-152 machines.
The unique atmosphere of the camp was underlined by a realistic model of Super Marine Spitfire borrowed from the Czech Spitfire Club. But the most amazing moment came when a real Spitfire arrived. This legendary fighter plane just enchanted the children and they took thousands of photos with the plane as well as with its pilot.
With Spitfire, another two warships landed at the Plasy airport: a Stinson V77 Reliant and a Harvard Mk.II. Thus, the Plasy airport was suddenly in the Second World War. Historic planes played a battle and above the children three-metre RC models of allied warlords and enemy aircraft were flying.
"The aim of the camp was to familiarize children with the life of pilots, real Czechoslovak war heroes, but also to attract them to aviation and to spur their interest in the world of airplanes, that is what we are glad to support " said Jan Králík, Chief Operations Officer of ABS Jets.
In addition to the planes, the current military equipment was shown by paratroopers from the 4th Žatec brigade, who arrived at the airport with an armored vehicle, and the children boarded the vehicle and enjoyed a ride. The paratroopers also showed small fighter demonstrations of the Musado military combat techniques.