ABS Jets will celebrate its 15th anniversary at EBACE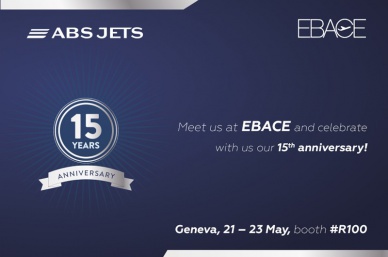 The business jet operator based in Prague and Bratislava airports will soon mark 15 years on the market. This year's company participation at EBACE will therefore be dedicated to celebrating this special occasion. 
ABS Jets began its successful journey in 2004 with only 30 employees and two small jets in its fleet. Soon after, they added their first Embraer Legacy 600, and one year later, expanded with another. This step anticipated the company's rapid growth in the upcoming years. Now with more than 200 employees, large facilities and a complex portfolio of business aviation services, ABS Jets has quickly become one of the leading companies on the central European business aviation market. 
Currently, they operate nine business jets in the heavy jet and ultra-long-range categories, including a Gulfstream G650 added to their fleet in February this year. Their continuous effort to provide the highest level of VIP services has been recognised with numerous international awards. In the past few years, they have received the Best Business Aviation Company Award, the NBAA Commercial Flying Safety Award and the NBAA Aviation Maintenance Department Safety Award, and now it has achieved IS-BAO stage III and IS-BAH stage II certifications.
"We started as a small company, though with big goals, and more importantly, with great enthusiasm, which drove us continuously in delivering the best to our clients. I am proud to see that our unique approach has proved our results. I believe this is something that sets us apart and is also why our clients stay with us." said Jan Králík, Chief Operating Officer and Accountable Manager at ABS Jets.
The company provides services 24/7, worldwide. One of the core businesses in the ABS Jets product portfolio is MRO, which is an authorized Embraer service centre offering AOG support. It holds all the necessary authorizations of the EASA Part 145 organization and closely cooperates with the ABS Jets CAMO unit. Last year, they expanded their approvals for the B1 rating and are now authorized to conduct Engine Borescope Inspection and Foreign Object Damage inspections in the field.
Over the years, ABS Jets developed their own operations control centre, which has successfully planned flights for the demo fleets of various manufacturers and is currently specializing in special missions to remote and uncommon destinations. The comprehensive business aviation services package includes VIP ground handling, which achieved 20 000 flights handled last year.
"We feel the constant need for progress, which is why we are currently expanding our activities in order to fulfil our clients demand," added Králík.
Exhibiting at this year's EBACE at booth #R100, ABS Jets will be presenting its expanding portfolio. Company representatives will be available at the booth for additional inquiries.