ABS Jets receives IS-BAH stage II accreditation for its Ground handling in Prague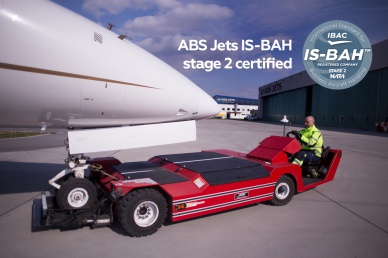 The leading Czech business jet operator based in Prague and Bratislava has recently been awarded the second stage of the International Standard for Business Aircraft Handling (IS-BAH) certificate. The company is the first and only holder of this certificate in the Czech Republic.
IS-BAH is the global industry standard for handlers and operators around the world and meets the forthcoming SMS requirements of the International Civil Aviation Organization (ICAO).
After receiving IS-BAH stage I two years ago, this is another success for ABS Jets ground handling in Prague, proving its continued commitment to rigorous aviation safety and security standards.
During the audit, ABS Jets successfully achieved compliance with emergency and contingency planning, airside operations, ground support equipment, training and other safety and security regulations. ABS Jets Ground handling operates from VIP terminal at Prague airport where it owns two hangars, VIP crew lounge and provides the full in-house ground handling services such as refuelling and de-icing the aircraft, taking care of the passengers and the crew etc.
"It's a great honour to become the first and only holder of IS-BAH stage II certification in the Czech Republic. Last year, our Prague handling achieved two significant milestones: ten years on the market and 20 000 rotations handled. Along with achieving IS-BAH stage II, we are re-affirming our efforts to deliver safety excellence and top-quality services," said Jan Kralik, Chief Operating Officer and Accountable Manager at ABS Jets.