ABS Jets ground handling turns 10th anniversary and 20 000 flights handled in Prague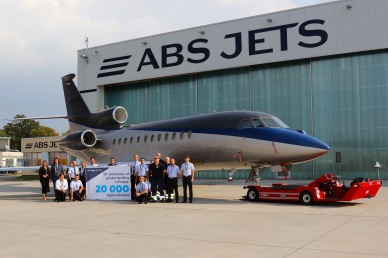 Czech business jet operator with bases in Prague and Bratislava airports has recently achieved two important milestones. Its ground handling department in Prague just turned a decade and handled 20 000 flights.

The jubilee flight was facilitated by Universal Weather and Aviation, Inc. for a client Nortwhest Steel Fab, Inc. and operating a Dassault Falcon 900 EX.
ABS Jets provides the comprehensive portfolio across the private aviation field where ground handling operations represent a significant role. The company became a licensed handling agent at the Prague airport in 2008 and since that time they continuously grow and expand their services. Currently, they provide 24/7 support for the most types of business jets as well as the civil aircraft, helicopters and medical flights. They also serve the flights for big sports and cultural events. ABS Jets facility at Prague airport includes more than 6 000 m2 of own hangar space and VIP crew lounge.
"Since the very beginning, we have been focused on one goal – to provide the services of the highest level of quality and always keep safety as our number one priority. I believe this together with a combination of our special individual care has helped our ground handling services to get where we are now. I feel honoured that I could see the journey we have made for the past ten years. Last year´s IS-BAH certification confirms we go the right way" Said Jan Kralik, Accountable Manager at ABS Jets.
Apart from ground handling ABS Jets portfolio includes certified MRO, CAMO, Operation Control Centre, Jet Charter and Brokerage and Travel Management. The company has been awarded IS-BAO stage III and IS-BAH certifications.