FAKE VIP FLIGHT ATTENDANT JOB POSTING ALERT (domain absjetts.com)
Dominika Hrušková 14. 9. 2020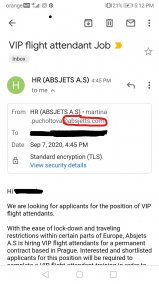 Spammers are again using our company name to obtain information and funds through a fake job posting.
If any person receives an email that resembles the example of a job posting, as shown in the screenshot, it is to be recognized as a fraud.
If you are uncertain about the credibility of a job posting, please observe the email address. ABS Jets official email address uses the domain @
absjets.com
 at the end.